Data Frame Manipulation with tidyr
Last updated on 2023-11-23 | Edit this page
Estimated time 45 minutes
Overview
Questions
How can I change the layout of a data frame?
Objectives
To understand the concepts of 'longer' and 'wider' data frame formats and be able to convert between them with tidyr.
Researchers often want to reshape their data frames from 'wide' to 'longer' layouts, or vice-versa. The 'long' layout or format is where:
each column is a variable
each row is an observation
In the purely 'long' (or 'longest') format, you usually have 1 column for the observed variable and the other columns are ID variables.
For the 'wide' format each row is often a site/subject/patient and you have multiple observation variables containing the same type of data. These can be either repeated observations over time, or observation of multiple variables (or a mix of both). You may find data input may be simpler or some other applications may prefer the 'wide' format. However, many of R's functions have been designed assuming you have 'longer' formatted data. This tutorial will help you efficiently transform your data shape regardless of original format.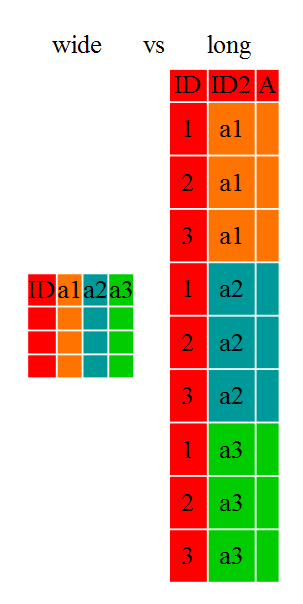 Long and wide data frame layouts mainly affect readability. For humans, the wide format is often more intuitive since we can often see more of the data on the screen due to its shape. However, the long format is more machine readable and is closer to the formatting of databases. The ID variables in our data frames are similar to the fields in a database and observed variables are like the database values.